Welcome to The Fourleafclover Online Bookstore
Céad míle fáilte romhat!
(An Old Irish saying--A hundred thousand welcomes!)
Welcome to the home of The Fourleafclover Online Bookstore. Please search or browse our inventory of hard to find, out of print, used, and rare books. If you can't find what you like please fill out our off-line search form and we will search our off-line inventory, other bookstores and book search services for you. And yes, we do have an inventory of hard to find books about Ireland and the Irish.
We Love Pay Pal...and prefer it for payment. Payment by check or money order in US Funds is also fine.
Remittance address:

Fourleafcloverbooks.com
4324 De Tonty St.
St. Louis, MO 63110 USA
We also welcome international customers and ship worldwide. For UK and most of Europe the International First Class postage rate is still an option for shipping. Please inquire.
If you are a collector please visit our eBay store (see link below) for a large gallery of vintage postcards, print ads & ephemera; yearbooks and school memoribilia; vintage 80s vinyl; and merchandise values. Use the link below.
Four Leaf Clover Online Bookstore
There is only one store policy: We want you to be happy with your purchase.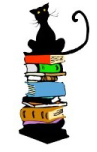 Loading crossword puzzle. One moment please.